Memphis       The Benjamin Hooks Institute for Social Change was established in 1996 by the University of Memphis and the late Benjamin Hooks, former president of the NAACP, originally from the city.  The Hooks Institute has a number of projects from documentaries to advancing the interests of young African-American men, but one of their programs for the last six years has been to publish the Hooks Policy Papers under their extremely able executive director, Daphene Rose McFerren.  Dine' Butler and I were honored to be asked to present a paper on the experience of the ACORN Home Savers' Campaign in Memphis in recent years at their annual event.
Our paper, "A Memphis Mirage:  How Home Mortgage Alternatives and Increased Equity Firm Ownership Diminish Wealth in Low-Income Communities," detailed the twin attacks on the affordable housing market in the city through private equity aggregation of foreclosed property turned into rentals and the surge in tenancy and eviction rates squeezing low-and-moderate income families and opening the door for alternative mortgage companies through predatory land installment contracts.  We were pleased at the positive reaction and interest of the audience with a former legislature demanding action by the Shelby County delegation and others arguing for local and state action as well.  It was a great crowd.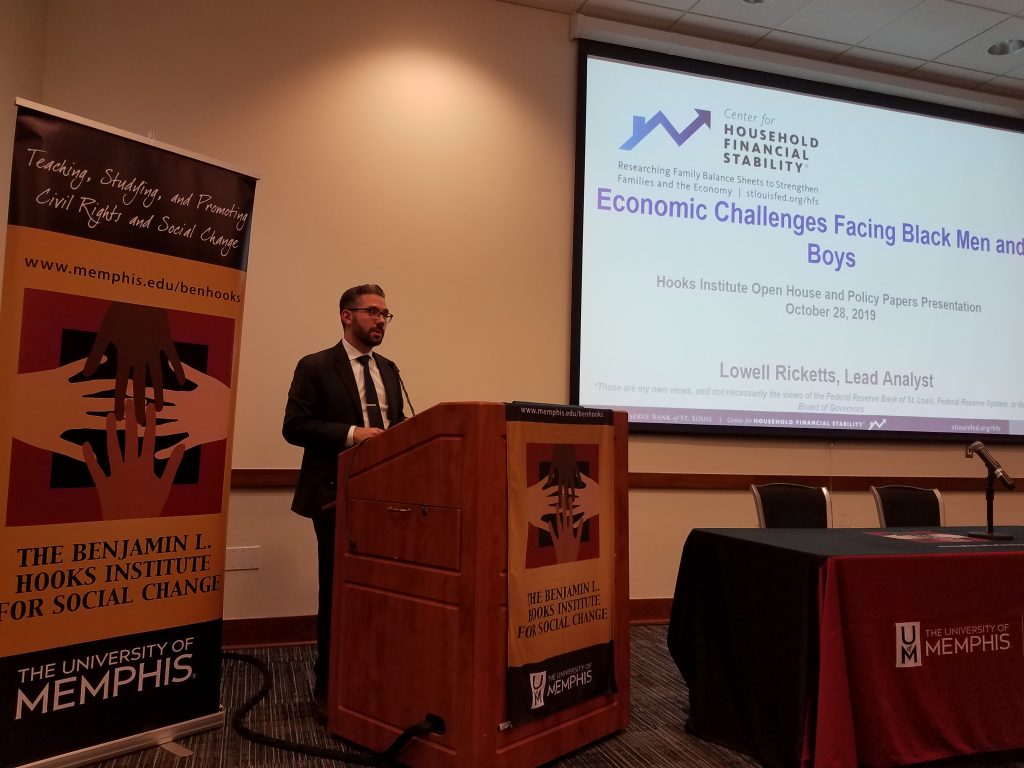 As interesting to Dine' and me were the submissions by the other panelists.  Lowell R. Ricketts from the Federal Reserve Bank in St. Louis entitled his paper, "Economic Challenges Facing Black Men and Boys," but it was that and more, because he also unpacked in highly accessible form the research available in the comprehensive data set done by Harvard's Raj Chetty and two other authors from the US Census Bureau.  Some of the conclusions defy the current ideology of many about what might impact inequality. Education is important in improving income for example but is making no progress in reducing the racial disparities of income between whites, blacks and Hispanics.  Young black boys are doing poorly in both good and bad schools by the measurements, even while young black girls are doing better. Looking at Memphis, the prospects for young boys and their futures were not as bad he stated as Chicago nor as good as New Orleans, although both figures were based on a case by case example since Ricketts was clear that only 5% of young black men were currently being raised in the best neighborhood environment for positive impacts, according to the data.  The factors that seemed to make a lot of difference were the absence of racial animus in the communities and the presence of more fathers in the neighborhoods.  I particularly enjoyed talking to Ricketts after the session since we seemed to share some of the same disappointments with the weaknesses of the Chetty recommendations for change after such a monumental piece of research as well as his effort to avoid being clearer on race and instead euphemistically privileging place.
Shelley White-Means from the University of Tennessee Health Services Center gave a spot-on presentation of how employment determined heath disparities and inequities.  She focused on alternative and contingent employment where coverage was more limited, but the core of her argument was to get better health outcomes, particularly for lower income and minority populations, we had to de-link health insurance from employment, which is exactly right.  In her policy recommendations she was unabashed in also arguing for Medicare for All or something like it in an expanded Affordable Care Act.  When she noted that employers were offering coverage to more workers in recent years, I asked her if employers were the ones answering that question in the CPS data, which she affirmed. Importantly, she understood my point that offering coverage under ACA rules was a world of difference from whether or not workers actually received coverage since many lower waged employers were allowed to make their coverage unaffordable, yet still comply with the act.
The Hooks Institute makes a real contribution with its work and this series of papers.  Joining the audience, we hope the word gets out!
You can check out Wade's recent past posts here Chief Organizer Reports. And you can link to his website here Chief Organizer ACORN/ACORN International